UC BERKELEY SUBSTITUTE W-9 AND SUPPLIER INFORMATION FORM   
The process of adding new suppliers or revising current supplier information in the Berkeley Financial System (BFS) supplier database is handled by the Vendoring Unit in Supply Chain Management.
A University department requesting to do business with a supplier, which is not a student or University employee, should fax (510) 664-7209 a UC Berkeley Substitute W-9 & Supplier Information Form to the Vendoring Unit for processing. The UC Berkeley Substitute W-9 & Supplier Information Form should include:
All required fields as stated on the form, including DESCRIPTION OF BUSINESS OR SERVICE PROVIDING TO UC BERKELEY.  Check the appropriate description box and/or complete the "OTHER" text field
The UC Berkeley department contact name, phone number and email address
Supplier's signature, if required, based on type of request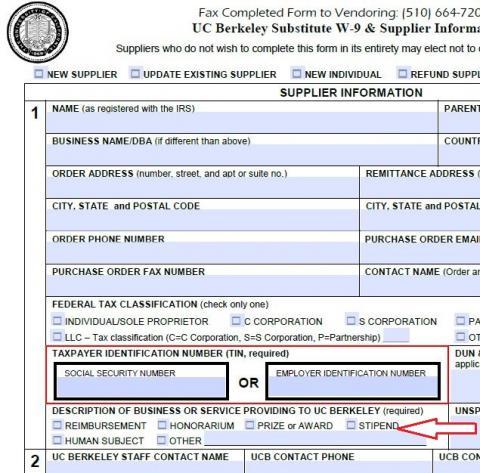 Whom do we contact if we have questions about the form?
The Vendoring Unit will enter the supplier information within five business days of receiving the completed UC Berkeley Substitute W-9 & Supplier Information Form and will email the UC Berkeley department contact with the Supplier ID.  
Existing suppliers needing to update their information will need to fax (510) 664-7209) the UC Berkeley Substitute W-9 & Supplier Information Form to the Vendoring Unit with the areas completed that require updating.  
Note that:
1099 Withholding reporting is required by the IRS
The check boxes used in conjunction with the Federal Tax Classification information helps to determine if a supplier should be setup for 1099 Withholding reporting
*Students should be hired as employees: A department wishing to pay a student for the provision of services should hire the student as an employee on a limited appointment. Students providing services should not be paid as suppliers, as it is unlikely a student will be in a true independent contractor relationship with the University, as defined by IRS regulations. If the department believes it has an exceptional situation, they need to contact their Campus Buyer for instructions on how to proceed.
**Transactions with Employees are discouraged: The University generally prohibits transactions with employees, because of the potential for conflict of interest. For more information on employee-vendor policies, and department's responsibilities see Conflict of Interest.
***Cash or Check Payment Refunds: Refund Supplier requests do not require a TIN (SSN or EIN) and do not require a certification signature. Refund Supplier should be used to refund a cash or check payment.
Select Refund Supplier at the top of the form
Section 1: Complete Name, Order Address, Order Phone Number
Section 2: Complete Name, Phone and Email for UC Berkeley Staff Contact
If an individual is providing a good or service, they are considered a New Supplier.
Check out the matrix below to determine whether a Tax ID Number and signature are required on the Substitute W9 and Supplier Information form.
FORM REQUIREMENTS BY REQUEST TYPE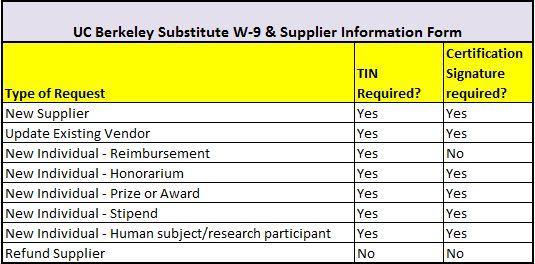 ---