Effective June 4, 2018, all requisitions are required to have a ship to address before a requisition is submitted. Shoppers will see the following error message below if a Ship To Address is not added to their cart.

If you want to watch a video tutorial please click on the following link: https://www.youtube.com/embed/xJZUR7RaYNk?rel=0
Step 1 Log into BearBuy
1. Login to BearBuy (http://bearbuy.is.berkeley.edu/)
Use your CalNet Credentials
Step 2 Access Cart
1. Once logged in, the shopper will either access a previous cart or create a new cart
2. After the cart is created the shopper will need to click on "Vew Cart Details" icon which is located on the top right hand corner
Step 3. Adding Ship To Option
1. The next screen is a summary of your cart which will include information such as; Org Node, Chartstring and Shipping
2. Navigate to the Shipping section
This section may or may not be blank but it is now a mandatory field that needs to be filled out before submitting the cart
3. Click on the "edit" button

4. The next screen will show you a dropdown of the various shipping addresses on file.
If the desired address is not in the drop down then click on the "click here" button to add a new address
5. A new link will appear under the "select from your addresses" and click on the "select from org addresses"  
6. Another pop-up window will appear where the shopper can search for the desired address
Typically the search function works optimally when searching by a UC Berkeley building

7. Select the correct address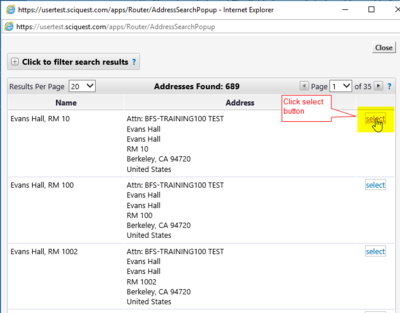 7. On the next screen check the following is included:
Attention section is displayed if a person needs to be highlighted.  
There is an option to "Save this address for future use" 
If this is checked then another box will appear to label this specific address
Additionally a box appears under the name address that will default all future requisitions to the address chosen in the previous steps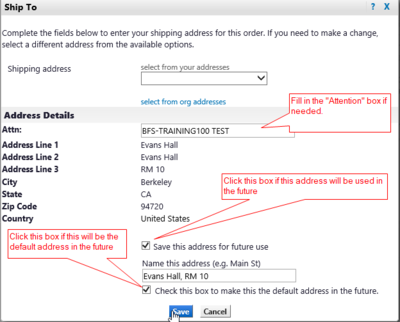 Step 4. Submit Requisition
1. Now the address will appear on the shipping section

2. Check that all necessary fields are filled out in the requisition and click the submit button