For Catalog Orders >$5,000 and Non-Catalog Form Orders >$1,000 a receipt is required before a voucher can be paid. 
The easiest way to create a receipt is documented below: 
As soon as an invoice is processed in BearBuy to a voucher, the shopper will receive a notification that a receipt needs to be created. Click on the link in your email notification (as highlighted in the example below) and it will open the Purchase Order screen.
NOTE - Shoppers will receive reminder notices (if required) starting on the first day after an invoice is processed. Creating a receipt turns off email notifications. If a receipt is not created within 9 days, the voucher will route to a Match Exception Reviewer. 
Example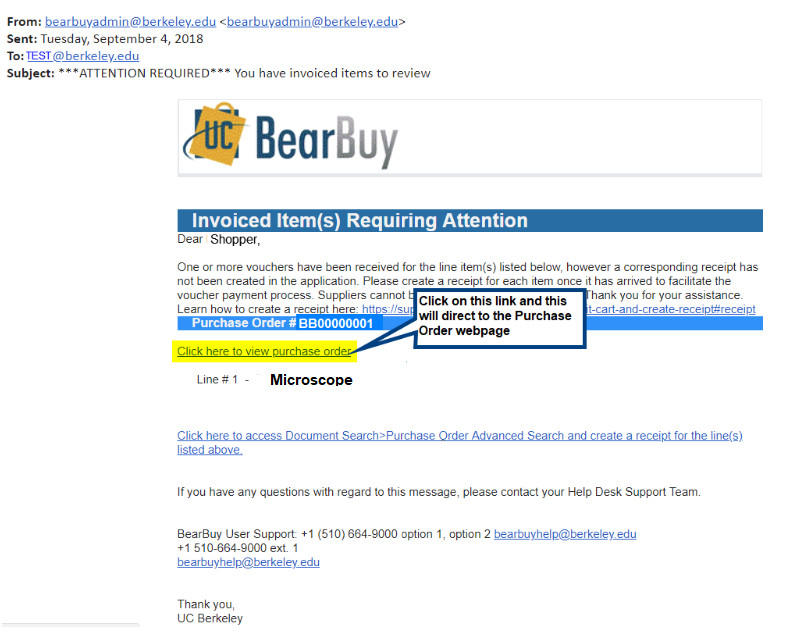 On the Purchase Order Page you will see an Available Actions Dropdown.





On the "Available Actions" in the dropdown follow the scenario below:
When you are in a Purchase Order, you will see the option "Create Quantity Receipt". Click on "Create Quantity Receipt" and follow the directions below

On the next page you will need to fill out the information below:
The two important sections for a Quantity Receipt that needs to be filled out are the Quantity and Line Status. All other fields are optional and once you are done click the complete button. 
After you click the complete button you will receive a confirmation