Exceptions
The services are needed to address an emergency.

The employees capable of providing the required services are not available at the University location.

The services are of such an urgent, temporary, or occasional nature that the delay resulting from their performance by University employees hired under the University's regular or ordinary hiring process, or the inefficiencies or difficulties in utilizing University employees, would frustrate the University's goals giving rise to the need for the services. 

The contractor will provide equipment, materials, facilities, or support services that could not be provided feasibly in the location where the services are to be performed.

The services are incidental to a contract for the purchase or lease of real or personal property. 

The services are performed by registry personnel in its clinical operations to address short-term staffing needs. 
Request to Contract Out for Covered Services
A Department may only proceed with contracting out for Covered Services work after internal staffing options have been determined to not be feasible and approval has been granted by the Labor Relations Office and Supply Chain Management.
The Request to Contract Out Covered Services formshould be submitted prior to requesting a requisition in BearBUY. This form is used to collect specific information from the department regarding their service needs. This includes:
A detailed explanation of all staffing options (e.g. overtime, stipend, recruitment) considered and why they are not feasible,

Contract duration,

Supplier's Scope of work,

Work location, if known,

The dollar value of the contract, 

If the contract will likely exceed $100,000 it will be reviewed by AFSCME and must be approved by AVC and UCB Labor Relations

Specific exception(s) used to justify the request and a narrative justification explaining why the exception(s) applies.

The PO or Req number. PO# if it is a change or extension
Approval Process
When submitting your Request to Contract Out for Covered Services form, it is important to note the following:
Amounts over $10k must be approved by your Department's Associate Vice Chancellor/CFO/Dean. -- Please add your Department Approver to your form if this is the case.
Amounts over $50k must be reviewed and approved by Employee & Labor Relations.
Contracted services to be performed in State Funded Buildings will also be reviewed and approved by Employee & Labor Relations.  A copy of the completed form will be cc'd to the Vice Chancellor of Administration.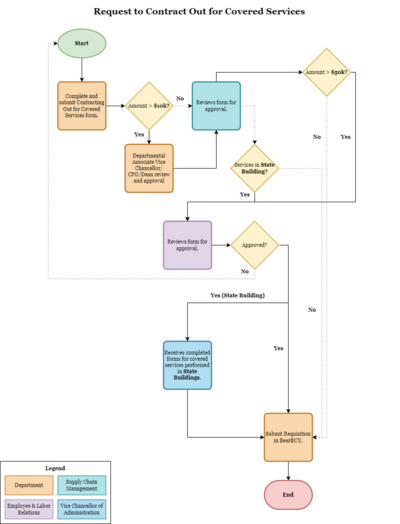 Click to enlarge/download a PDF file of this image.